OVERVIEW
Pandora Box Game Consoles are Arcade inspired consoles manufactured in China by 3A-Game Electronic Technology using bootleg JAMMA Game boards. The boards have been on the market since 2012 and have been largely appreciated by passionate vintage players who want to enjoy playing video games the old way from home without having to deprive themselves of the joy of replacing modern consoles' commands with an old-fashioned joystick recreating a whole 90's game room vibe. Not to mention, there is another major, new feature: you won't need to insert any coin or token to play!
Here is a list of all the different versions of Pandora Box that have been released ever since the first launch:
– Just Another Pandora's Box
The very first version of the console, realised back in 2012, only contained a bit over 300 games: unfortunately, though, many of them were repeated or showed some issue during gameplay.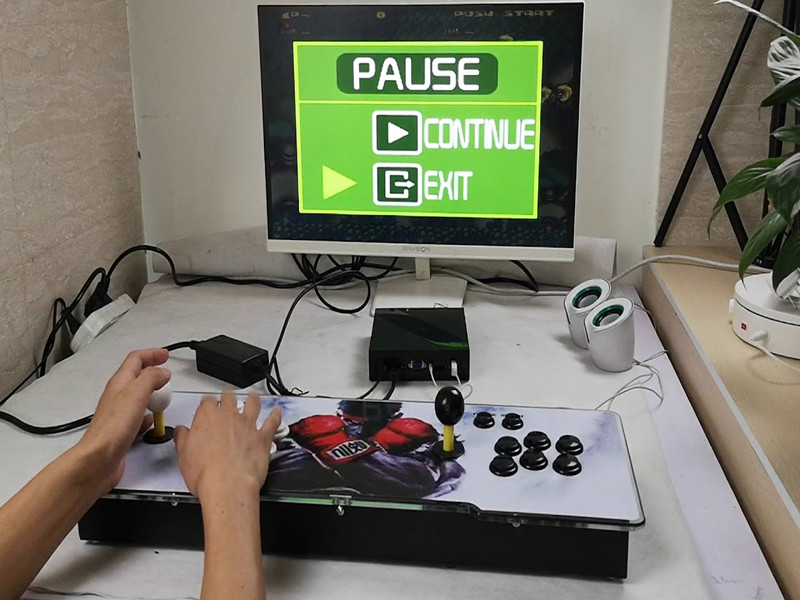 – Pandora's box 2
The second version of the board was launched in 2014 with a few new additional games. Little improvements were made in terms of graphics and bug-fixing.
– Pandora's box 3
3A-Game Electric Technology updated their board with a handful of new games in early 2015, for a total of 500, just months before launching another version of the board.
– Pandora's box 4
Within the same year, a new version of the board was released, with nearly 650 games in total; new additions included, oddly enough, spinner games and trackballs – these games, though, are unplayable on these boards as they are not supported by Pandora Box consoles. Also a blur filter was also added in the graphics on some of these games.
– Pandora's box 4S
It is an enhanced version of Pandora's Box 4 with almost 700 games. No other particular changes were made. It came out in late 2016.
– Pandora's box 4S+
Again, an enhancement of its predecessor, launched a year later with over 800 games in total. As expected, it packs a little more features than most of its predecessors.
– Pandora's box 5
This board, which was released later on the same year, included almost 1000 games and comes in two different versions itself: the JAMMA board box, with a smaller orange casing, and a twin arcade stick form. The JAMMA version included new quad-core CPU, as well as a better storage. Plus, the casing has a fan on top, with a bunch of other functionalities on the sides, including unit outputs, jacks and volume slider.
– Pandora's box 6
Launched in 2018, this newer version of the Pandora box comes with a console and hardware upgrade and two versions: the six buttons and the eight buttons sticks. A big difference is that the ROMs do not come with the console, as they are securely hidden in a download link: this means you will have to extrapolate them yourself. This safety procedure was due to copyright reasons. The games amount to 1300 and they include several Play Station games.
FEATURES
Features vary depending on the version of your console, but most providers sell most recent versions of the board as they are the most updated and provide better gameplay experience.
The board includes several built-in games (again, the exact amount varies depending on the version of the board). Almost all of those on sale now come with two joysticks with either six or eight buttons each player. So, you can enjoy multiplayer games with your best friend; it can be connected via USB cable to a LED TV, Play Station 3 & 4, Desktop, \ or even to a projector if you have one.
Any screen that has an input cable could do the job, but make sure you are certain of the compatibility of your devices before purchasing. It also supports HDMI connection, providing a better video quality.
There are also older versions of the board, providing a smaller number of games. In fact, newer versions were bettered with graphic improvements, bugs resolutions and even some aesthetic changes to the board.
HOW IT WORKS
Firstly, you will have to connect your board to a screen, either via USB cable or HDMI to a TV screen. If you have the latest versions, it will be easy as they support most kinds of output connections.
Once you're settled, you will read on the screen the list of available games to play. Again, the graphics vary depending on the version of your board.
For instance, on Pandora's Box 6, the latest version, the list of games will be displayed on a round wheel and the more you scroll, the more it rolls over. All you have to do is pick the game you would like to play with the buttons next to the joystick and enjoy yourself!
PROS
– You can spend an alternative Friday night with your friends drinking some beer and playing arcade games comfortably on your couch.
– You do not have to worry about inserting any coin or token, you can keep playing for as much as you want!
– If you have one of the latest versions of the console, you can easily connect it to pretty much any screen via USB or HDMI cables as it supports most types of output sources.
– You can play hundreds, sometimes thousands of different games with only one console, so you will keep yourself entertained for a very long time before you can ever think about getting bored!
CONS
– Because it is a tweaked system, sometimes the game glitches and some games can be damaged.
– The games may run slower at times, depending on which version of the board you have, you may find more or less issues with game playing.
CONCLUSION
The Pandora Box is perfect for any occasion: alternative Saturday nights with friends, rainy Sunday afternoons, first dates – you name it.
It is easy to use, easy to connect to the screen and easy to fall in love with. With hundreds, sometimes thousands of games to choose from, it is safe to say you will never get bored with this console around!