Pandora's Box is a series of bootleg arcade boards manufactured by 3A game Electronic-Technology; the series of games have been released since 2012. These boards run a Final Burn-Alfa Emulator. So as to maintain a normal speed, the boards have a few tweaks.
Due to the small size of the boards, they are easily portable and can fit on areas where you would want to access your games from. Pandora Box-Arcade has a variety of games that you can choose from.
How Does The It Work?
Pandora Box-Arcade is a two player console. It has two arcade sticks for the two players and each of the stick has 6 buttons for the two players to achieve ultimate gaming fun. Due to the diversity of the people playing its games, the system supports Multilanguage's which are English as well as simple Chinese and traditional Chinese. This arcade has a two-channel HDMI & AUX audio output which are of high quality. To avoid cases of repeated output you are able to choose a separate sound output.
There are a variety of games to choose from, and you can also add some games using the external storage media. For you to find a game of your choice easily, the arcade system has a Game Classification-Function which helps the player by simplifying the search. This function also displays the genre of the game. The games are classified in two ways and you can sort them by the genre of the game or the letters of the game title. These games have five genres which include: shooting, action, puzzle, fighting, and sports.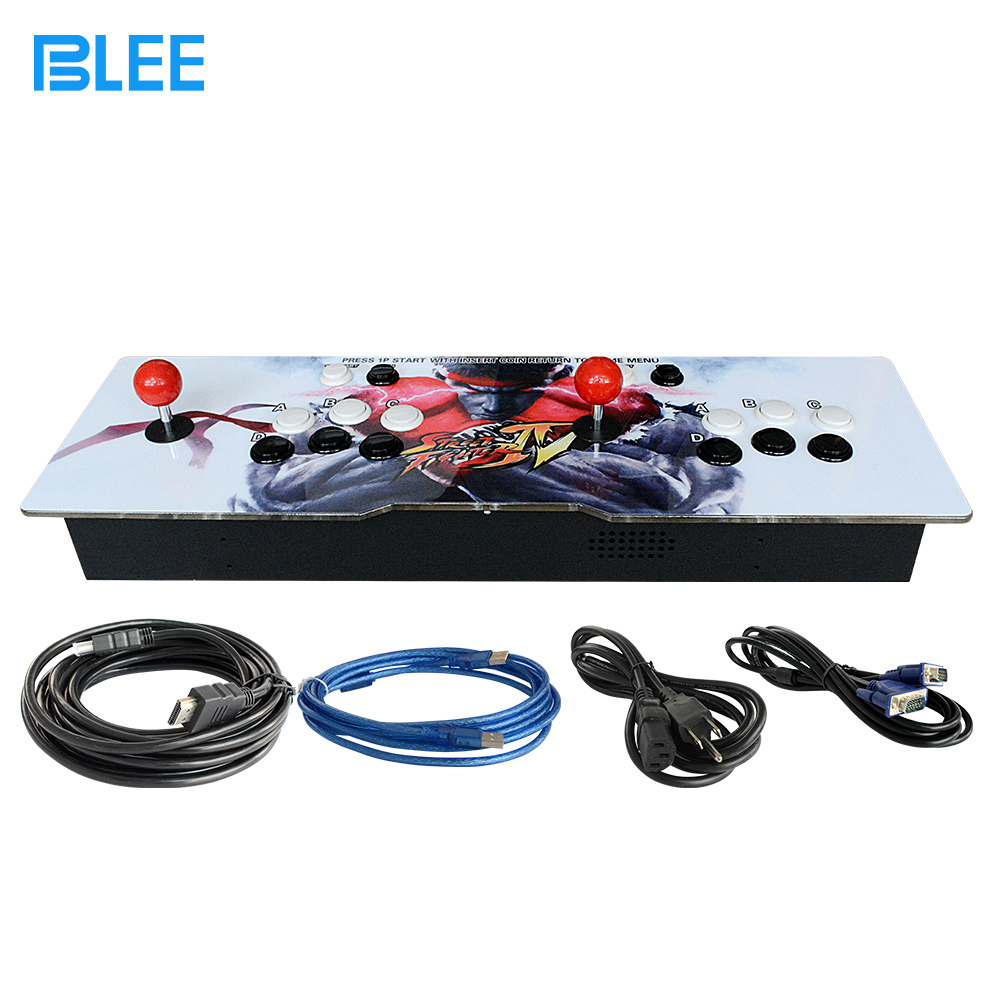 While playing the game has a pause option. This option allows you to have a break in the middle of your game and still come back to resume at the same point where you left it. When you suspect a hitch in the machine, you can use the IOTEST to confirm whether your coin collector, joystick, or connection Pandora box is functioning correctly.
Features Of The Pandora Box-Arcade
Faster game speed – It has a fast gaming speed and to avoid overheating issues, a rapid cooling system regulates the heat produced as a result of the high speed. This is enabled by the help of a Quad-core Cortex-A7-1.2 GHz CPU. GPU performance is improved by 200% while the CPU performance is improved by 100% making the game to load faster.
In addition to its effective cooling system, a cooling fun is set up in the PBC for faster cooling. This feature allows the players to enjoy a flawless playing time for a longer period of time without any worries of malfunction due to overheating.
PS 3 Games-Compatible – The Pandora's Box-arcades are usable to effectively accommodate PS 3 games. This is an added advantage for it increases the variety of games a player can access. You are able to choose between the large numbers of games offered by the system and also choose from PS 3 games. This is possible through the external storage media.
Games available in it have superb graphics and are majorly original copies. The system does not only accept PS 3 games but it also accepts other games. A variety of genres are represented by the games covering all aspects of gaming. These games are thrilling with numerous adventurous missions that occupy your mind in closing up mission after mission.
It is compatible with all PC's and HD TV screens – Pandora's Box arcade can be used with any HD TV screen or PC monitor. It has an epic physical output resolution. This machine supports 3 display resolutions so as to cover the needs of different players. Its compatibility allows you to easily use the machine with an HD screen at your reach.
You can also use it with your PC if you have no access to a screen. Its high resolution gives you spectacular pictures of the characters in your game. Graphics appear clear and this increases the thrill of the game making you feel like you were in the game.
Integrated volume control – It has a built-in speaker which can serve you in case you don't have an output speaker. This machine gives you two output options the HDMI output option and the 3.5 mm audio output volume. The internal speaker produces quality sound and it's quite audible. You are also able to use one of the output options if you have a better output speaker.
Your volume e dial controls not only the internal speaker but also the HD audio and the audio port. This eases your operations as you are able to adjust your volume using one volume dial whether the speaker is internal or external. Pandora's Box-arcade offers you clear audio sounds for a better gaming experience.
Original Pandora's arcade motherboard – This motherboard can run a variety of games with ease. It is made of a complex system that can accommodate both heavy and small games. With it, you are able to play games with complex missions and levels.
This motherboard has a faster loading rate and makes your gaming smooth and more fun. Designed to use buttons and sticks, it responds to the controls commands effectively, making it simple and fun to play the games. When it encounters a hitch it may be replaced by the same model and design.
Pandora's Box arcade supports a universal power adapter – Universal power adapters are easy to access and can serve various appliances. This machine enables you to use a universal power adapter for its power regulation. It is much cheaper and convenient to acquire a universal power adapter than a customized adapter.
This adapter is provided for each machine during purchase. You are able to use them on other Pandora's Box-arcade for they are universal. Buying different chargers for your different models of these machines may be quite cost full and its quite cost effective to get one that you can use for all of them and even share to other gamers with the same arcade.
Conclusion
A Pandora's Box-arcade is ultimately your best choice for gaming. It offers you amazing games and features to make the games more exciting and inclusive. The gaming machine comes at an affordable price and is durable for as long as you maintain it as required.